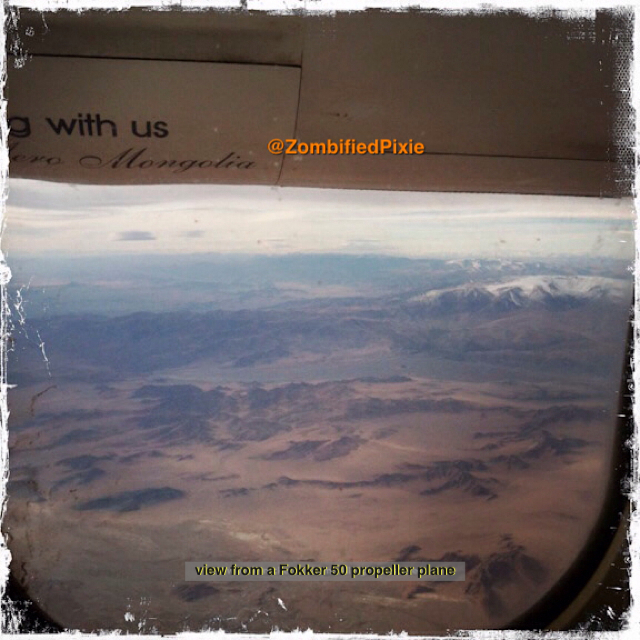 [ Please see Disclaimer … ]
Thankfully I have never flown with Ryanair or with EasyJet (and I pray that I will never have to!).   So, you ask, if I never had to deal with the legendary massive scrums boarding one of these planes, and, if I never had to deal with the 'nickel-and-dime fee gouging malarkey' that these low-costs airlines are infamous for, what could I possibly grumble about?  Whilst it is true that I have thankfully been spared the above experiences, I have flown on third-world  'Air Chicken' and 'Air Decrepit' and have raked enough carbon footprint to (regrettably) be responsible for a small island somewhere in the Pacifics to be under real threat of oceanic flooding in the very near future.
That said, flying is _still_ a joy to me.  Perhaps this is because I had an epiphany at a very young age that in the total history of mankind, only a very small percentage of human beings have the privilege to actually fly.  So, despite the everyday grind of getting to the airport, dealing with obtrusive airport security, and being greeted by some of the most unpleasant people on earth at the immigration desks (especially at the JFK's passport control desk), flying is still very much a privilege.
So whilst I will grumble (and grumble quite vociferously) about air travel,  the whinging centers mostly on the stupidity of stupid airline policies and on my personal experiences during my travels.   Interspersed in this opinionated blog are some tips on how to have a better travel experience whilst in the moving aluminium can.
'I'm sorry — you can't have a bottle of water'
Huh???  But, I'm in business class!   Oh, silly me — I forgot that I'm flying American Airlines.  Oh joy …  I still have 5 more hours left on this flight.
As someone who does not fly domestic flights often in the US and as someone who has read the myriad horror stories in the general media about the deteriorating level of service on American domestic carriers, it never quite occurred to me how bad the situation was until I had to fly from New York to San Francisco.  The first clue was at check-in when I was told that business class lounge access was only for international flights.  (Ok … that is a pisser, but, I guess they have capacity issues and thus this is why they are restricting access.) Then, whilst I was waiting to board the plane, the tannoy overhead boomed with the following message (note:  I'm paraphrasing here….) "if you are flying economy, then you are advised to buy your own food before boarding because your ticket class does not include food.  You can purchase sandwiches, cookies, coffee on the flight for …."  (WOW — in all my years flying around Europe and Asia, I've never heard that before!  But, if people are bring their own food onboard, won't it be messier and smellier as the airline cannot control what is taken onto the air craft?)  And then the water bottle incident happened. . .
After takeoff, the flight attendant handed out bottles of water to passengers in business class.  But, these were not ordinary water bottles — these were half-sized bottles that one might give to elementary kids during a school outing.  During the flight, my bottle slipped from my grip and rolled down the plane.  I'd asked the flight crew for another bottle and was then told that they could not give me another bottle.  Instead, I was offered a glass of water from a plastic cup.  I supposed that ultimately how the water was delivered was immaterial as my thirst was quenched but the penny-pinching experience was an real eye-opener.
Yummylicious in Economy
I do not accept that flying Economy means settling for less and I detest airlines that penny pinch and gouge the travelling public.  As such and wherever possible, I avoid them because I don't believe in supporting the lowest common denominator because the LCD would soon become the norm and set the standard.
There are plenty of airlines which offer good Economy services .  One in particular ranks highly for me because I enjoy the quality of their lunch and dinner food.  Seriously and really.  The honour goes to Korean Air and to my delight the airline managed to produce a very yummylicious bibimbap.  (I still kick myself for once booking a flight that was on the cusp of lunch service so instead of getting my bibimbap, I had an ordinary breakfast.)
 "This is the Captain speaking — for the third time, please STOP smoking in the lavatory!" 
Welcome to Central Asia!  This is the land where rules become guidances and guidances can be ignored.  Thus, if someone wants to smoke on a flight, then that someone will smoke on the flight.  The above was overheard on an international flight flying into Tashkent, Uzbekistan.
"If you want to do X, then please press Y . . .  if you want to speak to an actual human being, then FORGET ABOUT IT" 
Nothing makes my blood vessel pops more than the automated telephone selection menus.  I certainly understand why airline companies use them as a first port-of-service in order to filter out easy FAQs.   But it is shameful when a company uses these automated systems to hide from direct customer interaction.  Whist I give Cathay Pacific high marks for good in-flight customer service, I detest Cathay's overall general customer service as it is almost impossible to actually speak to real human being unless I am willing to wait hours on-hold.  (Even the gold-card Marco Polo Membership hotline is useless!)  ARRGGGGHHHHHH!
I once had a time-urgent issue and I'd tried the Cathay hotline.  Rubbish.  Then, I'd tried the Marco Polo hotline.  Rubbish.  Then, I'd Google-searched for an alternative contact method and emailed Cathay. Rubbish.  I finally got a callback from Cathay on the back of my email, but by then the time-urgent issue expired (because the long delay killed the issue).  IMHO, Cathay's response was pointless, disappointing, and completely rubbish.
Going Downhill . . . .
As a Virgin Atlantic Flying Club member since 1998,  my loyalty to Virgin was once unimpeachable because I loved the caliber of their service and Virgin was a brand that I could identify with.  (I LOVED LOVED LOVED their 'Freedom Menu' — but sadly, this is no longer on offer anymore.)  Even when I was flying Economy on Virgin, I never really felt that it was Economy Class because of the little things that Virgin did to make the overall experience more pleasant.  For example, Virgin was one of the first airlines to offer on-demand movies and inflight entertainment in Economy Class.  But sadly, the company that I once loved (and often recommended to family and friends) is no more . . .   In my opinion, Virgin Atlantic has gone downhill.
I've recently had the wrong special meal delivered to me.  I had purchased extra legroom seats but these were only allocated out at the check-in desk and thus it was not possible to do online check-in.  As a result, there was a big brouhaha at the check-in desk to get the right seats.  I thought that the Premium Economy check-in girl at the Heathrow Airport desk to be inattentive and careless with the checked bags and thus mixed up the baggage and the passenger.  But, the straw that broke my faith with Virgin Atlantic was the way in which they, IMHO, shamefully handled (or, rather mis-handled) a Special Assistance request on a recent flight.
[ TIP:  if you pre-order a special meal, then you will be served before the rest of the cabin.  Thus, if you are on a long/overnight flight, it is usually helpful to eat as early as possible on the flight so that you get the maximum time to sleep.  Furthermore, by getting your meal earlier, you finish earlier and therefore do not have to queue for the rest room at the end of meal service.  The downside of ordering a special meal is that you will not be offered a choice and will be given whatever the airline catering company has prepared that day.  That said, I've never had a bad 'low sodium' special meal. ]
Ship it instead . . . .
Excessive baggage fees are  bane of all travellers and so this grumble is neither new nor surprising.  When it is not possible to avoid excessive baggage, the traveller needs to either cough up and pay the fees, or, ship it.
Unfortunately, on my recent trip to Mongolia, it was the former.  Aero Mongolia was fastidious (and rightly so as this was clearly stated as a condition on the e-ticket) about weighing every single bag (checked bags as well as carry-ons).  Thus, my fees were almost as expensive as my flight!  In hindsight, I wished that I took the time to ship my sleeping bags and horse riding gears by DHL, etc. in order to avoid the exorbitant baggage fees.   Next time, I will be smarter!
[ TIP: if shipping to a remote region, it might be worth the extra costs to ship your belongings as a registered parcel so that it could be traced in the event the parcel is mis-delivered. ]
Go With the Flow . . . .
Sometimes, when it can't be avoided, it's best to go with the flow.  That was my motto when I realised that the Air Bagan plane I was about to get on  was a Fokker out-of-production-aircraft.   Although I suspected that Air Bagan probably didn't have the best maintenance record, I was quite queasy about flying on the Fokker because the out-of-production status meant that access to affordable and functioning spare parts were questionable.   In the end, I had to decide whether to continue with the vacation and board the plane, or, ditch-n-hitch.   Ultimately, the decision reached was 'go with the flow' . . .   thankfully, the flight was uneventful.
****  to be continued ***